Docio's Software Business Management™ SaaS, a spin-off product from feature[23], identified by several local companies, IT executives, and technology professionals as a game changer revolutionizing the software industry. Jacksonville Business Journal spent plenty of time with the Docio team over the last year as this story developed...
---
---
Feature[23]'s office in downtown Jacksonville is basically what you'd expect from a tech company with a beer fridge, in-office haircuts and plush couches and chairs.
But a bookcase full of textbooks on software engineering is the dominant feature in the office.
---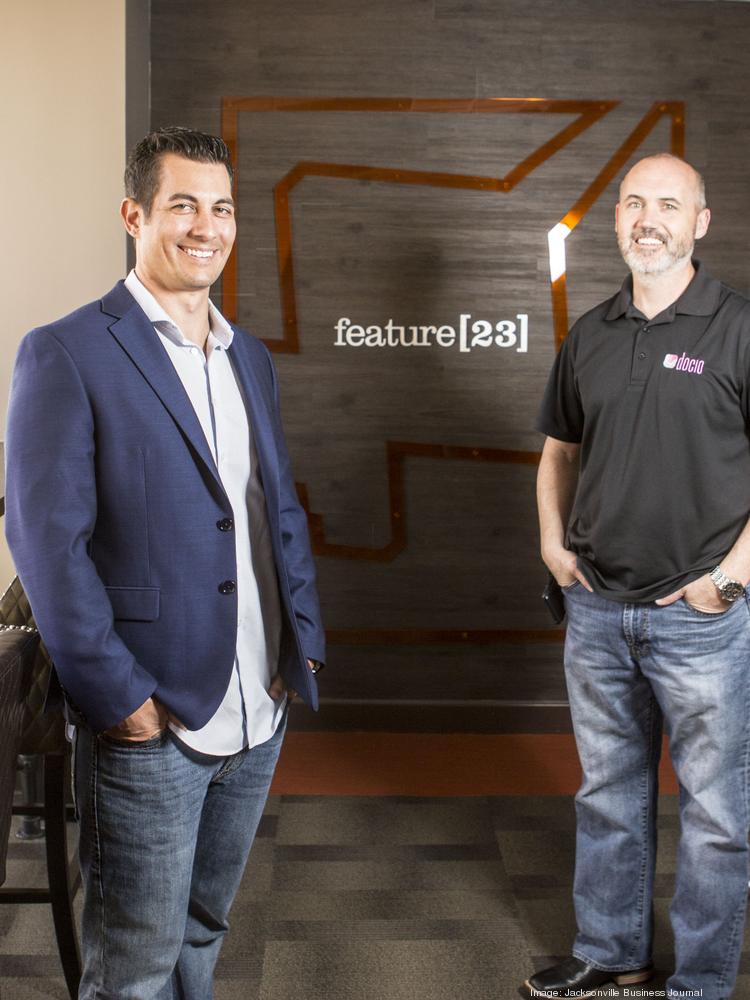 ---
The focus is on programming, said CEO Mike Potts and Chief Strategy Officer Jeremy Vaughan. That's not always the case, they say: At some places, coders are more focused on the amenities than on creating robust programs.
For Feature[23], that presents an opportunity.
Wanting to keep coders accountable, the company has created Docio, a product that allows a company's executive leadership to better evaluate whatever custom-built software it uses.
Docio is already getting rave reviews from local businesses and academics that have tried out a beta version.
"In my opinion, this will put Feature[23] on the map," said Sherif Elfayoumy, director of University of North Florida's School of Computing, who has private industry experience as a systems engineer. "They already have started talking to potential clients. It's very easy to justify the return on investment on this software."
Although Potts and Vaughan are aware of the challenges facing them, Feature[23] thinks its program could find a major national audience. It could be a game-changer for the firm, which is considering setting up a second company to focus on Docio.
One business that has already seen value in Docio is The Suddath Cos., which has been working with Feature[23] for the past two years.
When Len O'Neill took over as Chief Information Officer (CIO) of the company, he had to assess the quality of software that came along with a company Suddath had recently bought.
"Knowing the value of your assets gives you a baseline," O'Neill said. "We have 180-odd pieces of technology; a lot of that is bespoke or customized. I want to know the quality of those assets and if they're generating value. The quality of your source code can tell you a lot about the maturity of an organization."

Docio could tell O'Neill how many bugs were in the code, what problems those bugs could cause and what fixing them would cost, collecting data from code analysis, time tracking and project management tools, he said.
"The more data Docio has access to, the more the tool can give insight to," Vaughan said. "The basic point is that most companies are driving blind and do not know the areas of concern with their operations and systems."
Docio doesn't give magic answers, he said, but it provides transparency on quality, costs and risks to the company's decision makers to help them make better, more effective determinations.
"Demonstrating the value of your technology is a hard thing for a CIO to do," said O'Neill. "I can go to the CFO and say we need to invest X amount of dollars to improve our software process, and the CFO will ask me to show the benefit of that. With this tool, I can say we can get leaner and meaner by doing this or that and by catching defects earlier in our life cycle, it's cheaper. It really validates us as experts in the field of business for the value of technology."
Ten pilot companies — including Suddath, Beaver Street Fisheries, Academy Medical and others that Feature[23] declined to name for this story — are now trying Docio out.
Sitting in their orange office, Vaughan and Potts give a walkthrough of their product. The two might be what you expect of tech entrepreneurs: Vaughan sports a sleeve of tattoos and has a Star Wars meets Steampunk office. Potts has on a Docio-branded collared shirt and a flat cap. Later, leaning against the walls of their conference room, they discuss where to smoke cigars in Jacksonville. The two run the company with Potts' wife of 20 years, Tracy, who handles operations.
Vaughan and Potts said it's their dedication to best practices in software and frustration that others aren't always using them that lead to the creation of Docio.
"We want to squash the lazy coder mentality, because data tells the truth," Vaughan said. "There are irresponsible coders getting hired that are figuring out their jobs on other people's dimes, and that can put a company out of business."
Potts and Vaughan aren't just pointing fingers, though, being quick to say Docio was created as a way to hold themselves accountable.
"We wanted an impetus to educate the customer, but to hold us accountable," Potts said, sitting in the Downtown office, a sticker-covered laptop in front of him. "We always believed we were the most efficient and delivered the most cost-effective solution, now how do we prove it?"
Docio is designed to show flaws that couldn't have easily or efficiently been detected and monitored before, the duo said.
Now the job is to convince potential customers that Docio is the game changer Feature[23] thinks it is.
"How they position it is going to be the key," O'Neill said. "Success depends on how they attack the market."
Feature[23] has invested about $1 million in development over the past three years. Next year, when the project is fully rolled out, the company should bring in between $3 million and $5 million in revenue, Potts and Vaughan said.
That would be a game-changer for the 15-person company, which is starting to put a spotlight on Docio. While Feature[23] will still provide consulting, there are plans to spin off Docio into its own sister company, Vaughan said.
"We wrestle sometimes with Feature[23] versus Docio," he said. "But we like to think that we offer the product and the service. Feature[23] goes after the initiative, and we think Docio could be a huge value-add for us."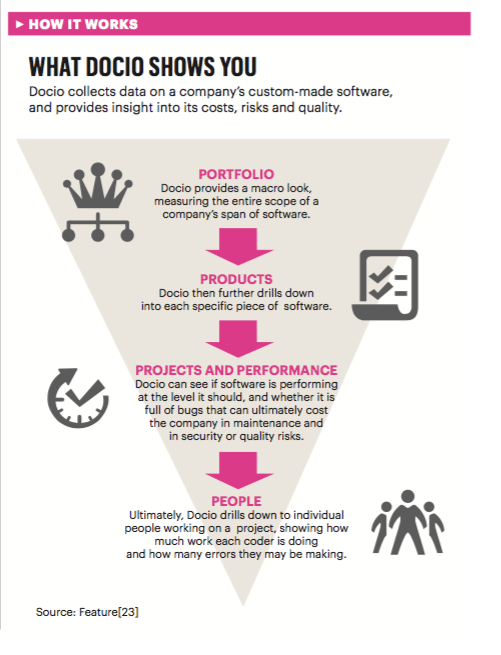 ---
Credit and more information:
http://www.bizjournals.com/jacksonville/news/2016/09/02/how-feature-23-s-new-product-docio-could-be-a-game.html